MICA ACOUSTIC DIAPHRAGM
The mica speaker diaphragm is a product which has a favorable sharpness of resonance curve with a high specific Young's modulus and superior weather resistance.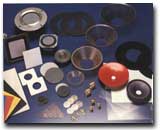 We are the first in the world to develop the mica acoustic diaphragm for loudspeakers, since then, the mica diaphragm has been used in numerous loudspeakers including cones, coupling cones,skin for flat-shaped loudspeakers and voice coil bobbins. A flat-shaped foamed mica acoustic diaphragm has also been developed for flat shaped loudspeakers.
MICA ACOUSTIC DIAPHRAGM

Symbol

Composition

Construction and main Uses

Thickness
(mm)

Density P(g/cm2)

Young's modulus E(N/m2)

Speed of
Sound

Mica

Binder

S6EI-K

Muscovite mica paper




Epoxy

Cone-shaped mica diaphragm

0.03~0.3

1.70

6.5~7.0 X 1010

6,100 ~ 6,400

S6EI-P

Skin for honeycomb structure flat shaped diaphragm

0.02-0.2

S6E-P

C6E-K

Cone-shaped coupling mica cone

0.05<

B6E-CR

Curled mica for voice coil bobbin

0.05~0.13

S2FI-K

PVA,
SBR

Cone-shaped foamed mica diaphragm

0.1~2.0

0.12

1.4~2.2 X 109

3,400 ~ 4,200

S2FI-P

Flat-shaped foamed mica diaphragm for flat-shaped loudspeaker

0.1~4.0

S2F-P